M.P. Vasimalai (Vasi)
Founder/Executive Director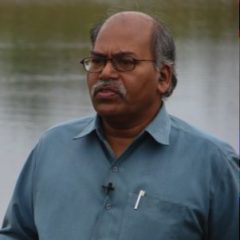 M.P. Vasimalai, Founder and Executive Director of DHAN Foundation, hails from a modest farming family in Madurai district, Tamil Nadu, India. Mr. Vasimalai is a post-graduate in Agricultural Science and subsequently obtained his Masters in Business Administration from the Indian Institute of Management Ahmedabad (IIMA), a premier management institution in India.
Mr. Vasimalai was one of the founding leaders of PRADAN, a professional NGO supported and promoted in 1983 by the Ford Foundation to professionalize development work. The Executive Director of PRADAN for six years, "Vasi," as Mr. Vasimalai is widely known, was instrumental in initiating development experiments across India. To scale up the proven pilots, with the mission of building people and institutions for poverty reduction, in 1997 he founded DHAN Foundation as a spin-off, in collaboration with 60 professionals. Today there are 400 professionals striving hard at the grassroots to bring changes in the lives of about 1.5 million poor families in 13 Indian states, of which more than 70 percent are women in low-income households, roughly one-fourth of whom reside in urban slums. Vasi was instrumental in designing the Community Centered Water Conservation and Development and Community Banking for Women Empowerment programs and promoted them as scalable and sustainable models for poverty reduction that have since been replicated by several government and non-government organizations across India.
As one of six members of the National Technical Advisory Group for the Jawaharlal Nehru National Urban Renewal Mission (JNNURM) launched by the Government of India in 2005, Mr. Vasimalai brought the idea of launching City Technical Advisory Groups and City Volunteer Technical Corps, to engage local citizens more fully in the process of urban renewal. He has designed a number of pilots for housing, sanitation and skills-building, also to begin to engage poor urban communities in the renewal mission. Vasi has also assisted the Tamil Nadu State Planning Commission in preparing several City Human Development Reports.
Mr. Vasimalai represents DHAN in the higher-level policymaking bodies of both central and state government, where he has the opportunity to advise on the basis of his extensive ground experience in the fields of microfinance, water conservation, agricultural development and poverty alleviation.